LiveScience Staff

Each week at Live Science we find the most interesting and informative articles we can. Along the way, we uncover some amazing and cool images. Here you'll discover the most incredible photos we found this week, and the remarkable stories behind them.
UFOs, declassified at last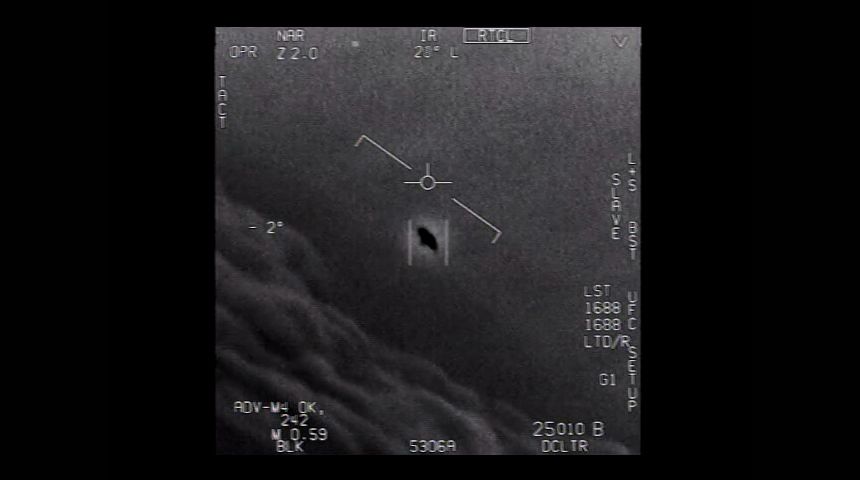 Three videos of midair military interactions with UFOs, previously released without official permission by a UFO research group, were declassified and shared online Monday (April 27) by the U.S. Navy. 
The footage, captured by U.S. Navy pilots years ago, shows mysterious, wingless aircraft traveling at hypersonic speeds, with no visible means of propulsion. UFO research group To the Stars Academy of Arts and Science published the clips in 2017 and 2018; at the time, those videos were allegedly declassified, Live Science previously reported. However, in September 2019, Joseph Gradisher, a spokesperson for the Deputy Chief of Naval Operations for Information Warfare said that the footage had not been cleared for official release. 
Now, the three clips — "FLIR," "GOFAST" and "GIMBAL" — appeared for the first time on the Naval Air Systems Command website, available to download through the Freedom of Information Act. The three sightings, which took place in November 2004 and in January 2015, were recorded by F/A-18 Hornet fighter pilots during military training exercises in restricted airspace.
What are the interfering objects? Nobody knows. But it's probably not aliens. (It's never aliens.)
[Read more: 'UFO' videos declassified by US Navy]
A 'Cosmic Reef' blooms in space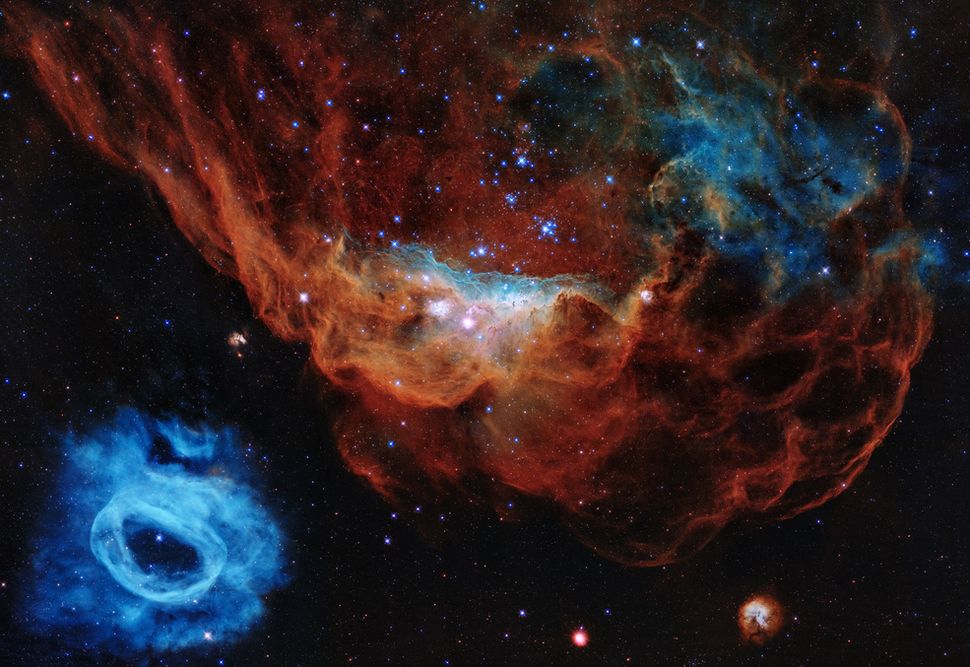 Young stars blaze to life in a nearby galaxy, repainting their cosmic neighborhood with fiery blooms of gas and radiation.
This new Hubble Space Telescope image — taken in honor of the telescope's 30th anniversary in space — captures just another day in the life of two young nebulas (one red, one blue) in the Large Magellanic Cloud, a satellite galaxy of the Milky Way located about 163,000 light-years away. The baby stars smoldering there are big — at least 10 times more massive than Earth's sun — and they're bright. The star at the center of the blue nebula in the bottom left corner of the image is about 200,000 times brighter than our sun, NASA scientists said. Radiation from those stars causes the surrounding gas to glow in stunning colors.
NASA researchers have nicknamed this image the "Cosmic Reef" for its resemblance to a coral reef in Earth's oceans — bursting with color and life, but hidden just beyond the reach of human sight.
[Read more: NASA reveals stunning 'Cosmic Reef' blasting to life in nearby galaxy]
A blinged-out Egyptian teenager
Archaeologists in Egypt have discovered the ancient mummy of a teenage girl decked out in beautiful jewelry, including beaded necklaces and copper earrings, according to the Egyptian Ministry of Tourism and Antiquities. 
The teenager was only 15 or 16 years old when she died during the 17th dynasty (1580 B.C. to 1550 B.C.). A team of Spanish and Egyptian archaeologists uncovered her mummified remains, as well as a pair of leather shoes, while excavating ahead of a construction project in an open courtyard by the tomb of General Djehuty, who served under king Thutmose III (stepson and nephew to the female pharaoh Hatshepsut) during the 18th dynasty. 
Though the mummy had deteriorated over the millenia, restoration returned her jewelry to pristine condition. This included two spiral earrings coated with a thin metal leaf — possibly of copper — in one of her ears, as well as two rings on her fingers and four necklaces draped around her neck. One necklace was a treasure even by today's standards; it contained 74 jewels and beads, two scarabs (one showing Horus, a god depicted as a falcon) and five faience amulets. Not bad for a teenager.
[Read more: Mummy of ancient Egyptian teenager, buried in fine jewelry, discovered in Luxor]
The largest iceberg's final float
The world's largest iceberg is starting to crumble. New footage taken on April 23 by the European Space Agency shows that the behemoth berg, named A-68, just shed an enormous chunk of ice measuring 67.5 square miles (175 square kilometers) while drifting into increasingly warm waters north of the Antarctic Peninsula.
"I suspect that the final breakup is now starting, but the ensuing fragments will probably be with us for years," Adrian Luckman, a glaciologist at Swansea University in the U.K. who has followed the iceberg's progress over the past three years, told BBC News.
When A-68 first split from Antarctica in 2017, it measured more than 2,300 square miles (6,000 square km) in area — roughly large enough to fit the five boroughs of New York City five times over. A-68 instantly became the world's largest free-floating slab of ice, and still holds that title today despite shrinking down to 2,000 square miles (5,100 square km) in area over the last three years while bumping around the crowded Weddell Sea.
Further splits will likely follow, Luckman said, and A-68 as we know it will be no more. However, he added, the berg will likely live on for many years through the constituent chunks that crack off its edges, many of which will be large enough to earn their own names. 
[Read more: The world's largest iceberg may have just begun its death march]
A farting gorilla chorus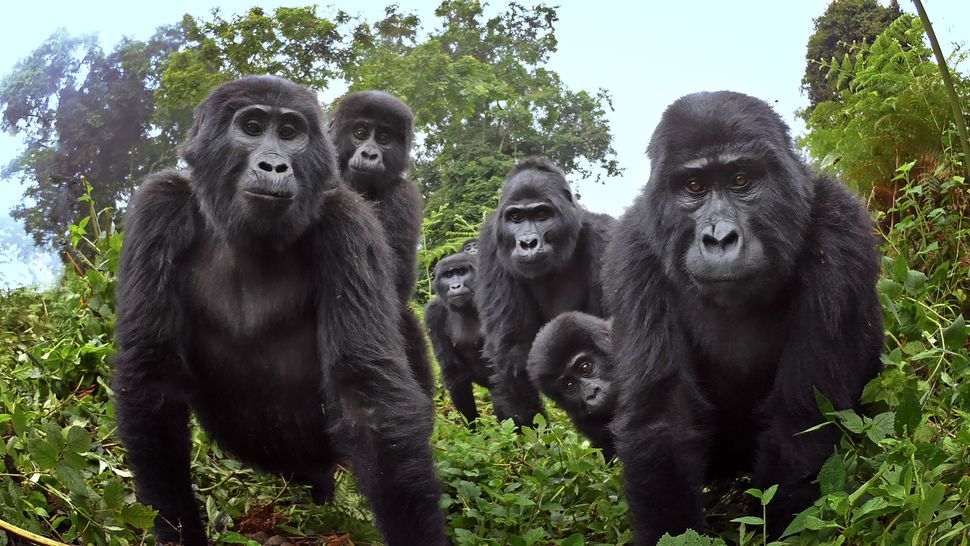 Mountain gorillas have been caught on camera as they "sing" during their supper, a behavior that has never before been documented on video. Filmmakers captured the astonishing footage of the primate crooners with a little help from a very special camera: a robotic "spy" designed to look like a young gorilla.
The singing apes make their television debut on April 29 in the returning PBS series, "Nature: Spy in the Wild 2." Like its predecessor, which first aired in 2017, the program documents remarkable up-close glimpses of elusive wildlife behavior, seen through the "eyes" of robots that are uncanny lookalikes of the creatures that they film.
But the team's robo-ape caught more than just singing; according to the show's narrator, the gorillas also live in "a near-permanent state of flatulence." (Considering the average gorilla chows down on 40 pounds of food a day, it's hard to blame them.)
[Read more: Robot 'spy' gorilla records wild gorillas singing and farting, because nature is beautiful]
The mismatched mammal of Madagascar
The oldest complete mammal fossil from the Southern Hemisphere is puzzling scientists with its mismatched body, strange skull holes and teeth that look like they're "from outer space."
The new fossil, reported April 29 in the journal Nature, is the oldest (and only) nearly complete skeleton from an extinct group of mammals known as Gondwanatherians. This mysterious bunch lived alongside the dinosaurs on the southern supercontinent of Gondwana. They're known from a smattering of teeth and bone fragments, a single skull and the new, remarkable skeleton of an animal whose discoverers have dubbed the "crazy beast."
The fossil is from northwestern Madagascar and dates back 66 million years, to the end of the Cretaceous period. The possum-sized skeleton appeared to have sprawled-out back legs, like a crocodile, and front legs aligned under its body like a cat or dog. This alignment is so unheard-of that the researchers studying the creature — named Adalatherium hui — have no idea how it would have moved.
[Read more: Ancient 'crazy beast' from Madagascar had mismatched body and teeth from 'outer space']
A rare ozone hole closes
After looming above the Arctic for nearly a month, the single largest ozone hole ever detected over the North Pole has finally closed on April 23, researchers from the European Union's Copernicus Atmosphere Monitoring Service (CAMS) reported.
The hole in the ozone layer — a portion of Earth's atmosphere that shields the planet from ultraviolet radiation — first opened over the Arctic in late March when unusual wind conditions trapped frigid air over the North Pole for several weeks in a row. Those winds, known as a polar vortex, created a circular cage of cold air that led to the formation of high-altitude clouds in the region. The clouds mixed with man-made pollutants, eating away at the surrounding ozone gas until a massive hole roughly three times the size of Greenland opened in the atmosphere, according to a statement from the European Space Agency (ESA).
While a large ozone hole opens every autumn over the South Pole, the conditions that allow these holes to form are much rarer in the Northern Hemisphere, the ESA researchers said. The Arctic ozone hole opened this year only because the cold air was concentrated in the area for much longer than is typical. Luckily, late last week, that polar vortex "split," the CAMS researchers said, creating a pathway for ozone-rich air to rush back into the area above the North Pole (shown in red in the image above).
[Read more: North Pole's largest-ever ozone hole finally closes]
Bacteria party under the sea
Deep under the South Pacific seafloor in rocks that are more than 100 million years old, scientists were surprised to find dense colonies of bacteria thriving on crumbs of organic matter. An estimated 10 billion single-celled organisms occupied just 0.6 cubic inches (1 cubic centimeter) of space in these volcanic rocks; that's about the same bacterial density as that in the human gut, the scientists wrote in a new study.
Because the rock samples were collected far from hydrothermal vents, the bacteria probably weren't randomly carried into the crevices by currents. Rather, they likely colonized the cracks and then multiplied over millions of years, feeding on organic material in the clay that also filled the cracks, the study authors reported.
Experts have long suspected that microbes could be found in sub-seafloor rocks, but evidence has remained elusive. The presence of this thriving colony could help researchers hunt for life in even more inhospitable places — say, on Mars, the researchers said.
[Read more: Ancient parties of bacteria found thriving deep beneath the South Pacific seafloor]
The seductive stink of the lemur
Fruity and floral scents help lemur lads lure the ladies, scientists recently learned.
Males produce this smelly secret ingredient in their wrist glands, which they then rub on their tails and waft as a scent cloud toward a likely mate. Secretions from these and other glands are commonly used by male lemurs to communicate with other males — to mark territory, demonstrate their social rank or broadcast their readiness for breeding — but scientists recently discovered that lemurs produce additional chemicals that are used to "stink flirt" with females during their yearly mating season.   
This could represent the first evidence of sex pheromones in primates, the group that includes lemurs, great apes and humans, the researchers reported in a new study.
[Read more:  Male lemurs 'stink flirt' using fruity, floral love potion]
A black hole "boomerang"
Light escaping from a black hole may "boomerang" its way to freedom, a new study suggests (and this image illustrates).
Researchers found this odd behavior while reviewing archival X-ray observations of a black hole that's approximately 10 times as massive as our sun. Located about 17,000 light-years from Earth, the black hole siphons material from a partner star; together, the black hole and star are known as XTE J1550-564.
Things can get pretty weird around a black hole. These exceptionally dense cosmic objects exert such a powerful gravitational pull that even light can't resist their attraction. And scientists recently found that light behaves even more strangely around a black hole than once thought. Light in a black hole's accretion disk — a spiraling, flattened cloud of dust and gas that circles the edges of a black hole — can sometimes escape into space. But the departing light from the XTE J1550-564 black hole didn't follow the predictable path. Instead of escaping directly from the disk, the light was instead pulled back toward the black hole and then reflected off the disk and away from the black hole "like a boomerang," researchers reported in the new study.
This research confirms a suspicion first made about black holes in the 1970s, and could inform new understandings of other elusive aspects of black holes — like how fast they spin.
[Read more: Black hole bends escaping light 'like a boomerang']
Originally published on Live Science.